A big Leap in Service with Gußmann-2-Plus
Setting the standard for service in the market...
A big Leap in Service with Gußmann-2-Plus
Setting the standard for service in the market...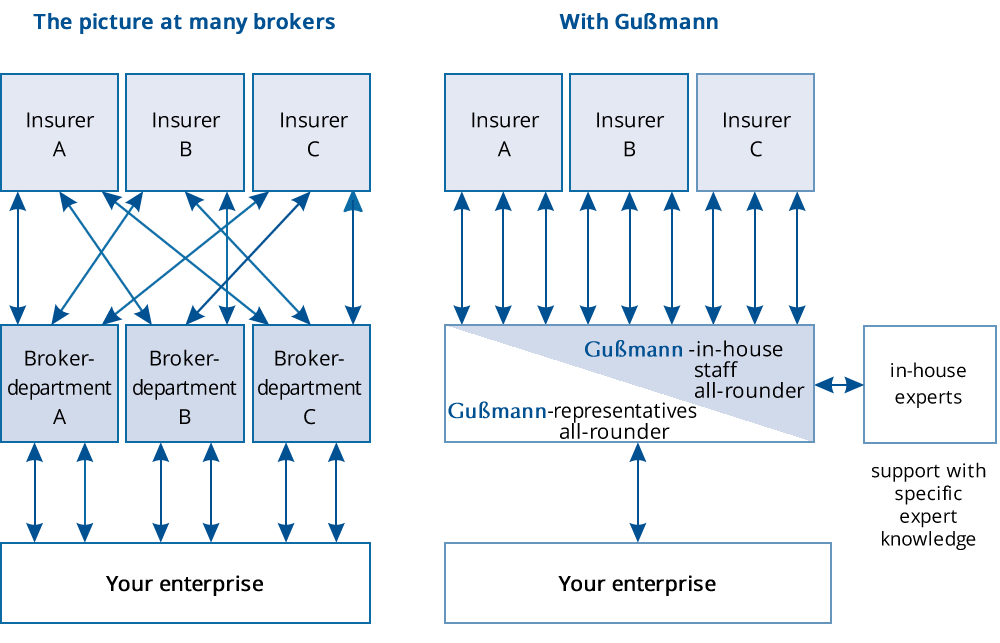 Gußmann-2-Plus stands for our efficient service concept.
Every client of Gußmann is looked after by just two people across all the specialist areas, namely an internal and an external member of staff in the team. Only the fields of precautionary measures and risk management are excluded from this approach. They have their own dedicated department.
This system is demanding in the industrial sector because of the extensive range and depth of the knowledge required. But with the well-known high quality of our staff we are well able to meet this challenge and thus make optimum use of the advantages of Gußmann-2-Plus.
Internal specialist responsibility
As well as caring for his/her clients, each member of staff has a second task to fulfil, internal specialist responsibility in a chosen field of insurance in which he/she must be 100% familiar with all specialist knowledge. If a member of staff is unable to answer a specialist question themselves in their day to day work, we can supply the answer from our own in-house resources. This makes us independent and fast.
The advantages of Gußmann-2-Plus:
We take comprehensive, individual care of our clients and do not simply process files like assembly line work:


Members of staff distinguish themselves through long and intensive co-operation with their own clients which shows not only in their attention to detail but also in their tenaciousness in implementing advantages for our clients.

There are no interface problems between co-operating departments:


This means our share system on important information is fail-safe. There is no superfluous allocation of responsibility.

All procedures and especially all connections are well known to the two members of staff taking care of you:


So nine out of ten questions can be given a full answer on the telephone. That is a huge advantage to our clients in facilitating their workflow.

High degree of availability in client care:


We ensure a high degree of staff availability and service by arranging for two counsellors working closely together, one being the internal and the other the external partner. In the event of either of your internal or external partners being absent for holidays or sickness, they will be efficiently replaced by one of their colleagues.
So there are always two experienced specialists there for you.
Discuss your security and risk management needs with us
We would be pleased to answer all your questions on protection and risk minimisation.
+49 - 541 - 40 40 - 0